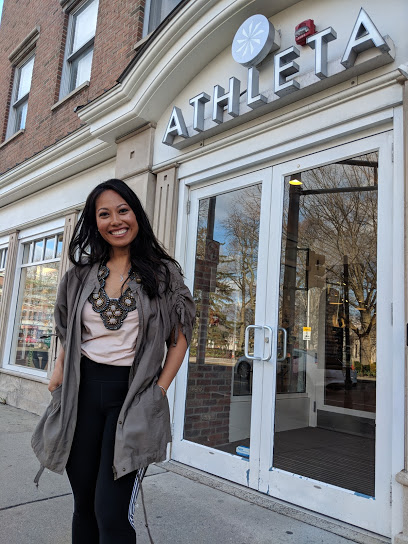 Summer Strut – Athleta x Paris and a Latte
How is summer already here? It's crunch time! Memorial day weekend, which is the official start of summer is almost here. Yikes! Time to step up the workouts and the clean eating to show off that summer body.
Last month I was lucky enough to partner with Athleta, along with my fellow bossbabe and trainer, Mary Massey for a Summer Strut It party where we showed off some great summer trends as well as sweat it up with a Zumba session.
We showcased some great athleisure wear pieces from Athleta that transition from day to night. We wanted to show pieces that were versatile that you could take from Barre to the bar. Our beautiful models for the night came from Barre3 in Morristown, a great barre studio right next to Athleta. Stay tuned for my review of my first barre class with them. Kristen, the manager at Athleta talked about each piece that the girls were wearing and I had the chance to dress up the outfits with jewelry from the Cayetano Legacy Collection and show how with a few simple key pieces you could change your look.
Some pieces that I think are great investment athleisure wear pieces are:
1) white button down shirt
2) leather like leggings
3) joggers
4) windbreaker
5) a good layering tank
Here are some outfit ideas to take you out of the gym and for everyday wear.
All you need to dress up these looks are items that should already be in your closet: a good pair of heels, a moto jacket, a good chambray/denim button up, and some amazing jewelry/accessories.
Almost all of our guests left a winner. We had so many great raffle prizes such as gift cards from local juicer, Green Point Juicery who also provided drinks and snacks during our event. We also had prizes such as a gift box from local, women owned company Pause and Unwind, free classes to Barre 3, a huge gift basket by ProVere Physical Therapy and of course we wanted to give away one of our beautiful statement necklaces from Cayetano Legacy.
We ended the night with a fun jam Zumba session with Mary.
It was an amazing event at Athleta and it was the start of getting our mindsets into summer mode. But now its crunch time because summer is officially here!!! I get my workouts in but my eating and my nutrition is what I need to focus on. I definitely don't get enough vitamins and nutrients so I just started using capsules from Juice Plus that incorporate nutrients from over 30 + fruits and vegetables. My body's been craving it for sure and so I'm slowly but surely getting myself ready for the summer! Message me and let me know some tips and tricks you've been using to get yourself ready for summer! Would love to hear from you.
xoxo,
Karen
Sorry, the comment form is closed at this time.