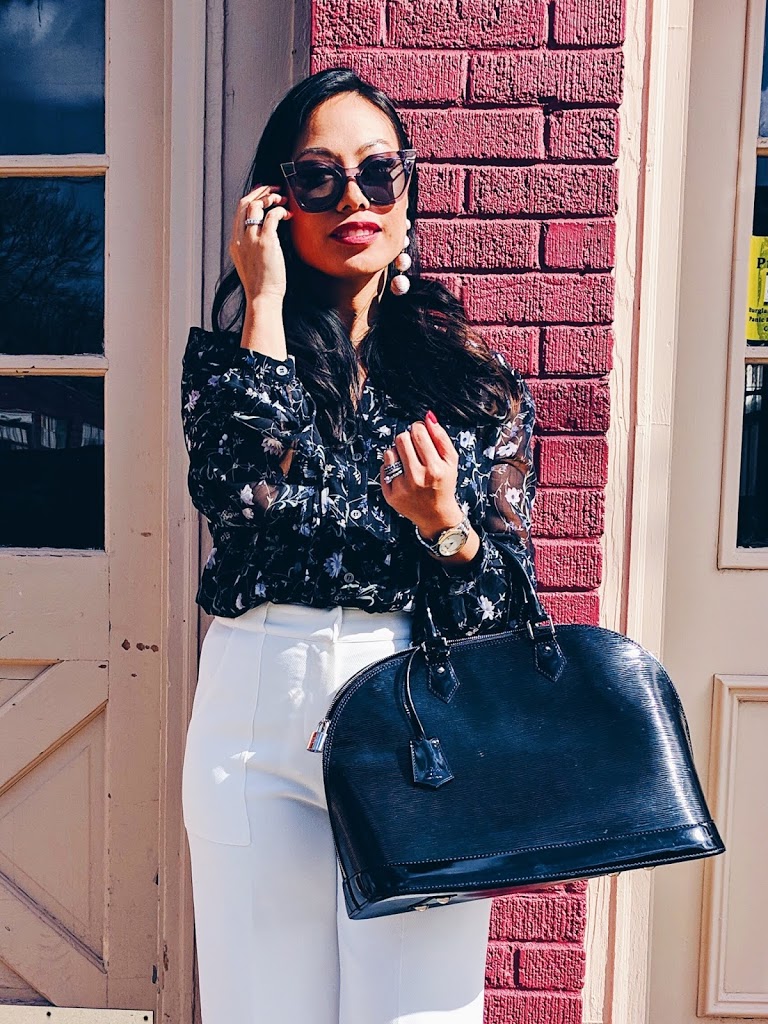 Transitioning into Spring with Alba Boutique
It's officially March! And while the cold weather is saying otherwise, Spring really is around the corner. There are so many great pieces that you can use now to help you transition your wardrobe from winter to spring. Last weekend, I got to shop at Alba Boutique here in NJ. They have 4 locations but the one I visited was in Morristown, NJ. A key tip to transition your clothes into spring is to pair them with a lighter colored piece. This gives your whole look a fresh, new feel. Let's go from winter whites to spring lights.
Look #1 – FLORAL BLOUSE
Of course, when you think Spring you think florals. You can take a deep moody floral blouse like this sheer blouse from Alba Boutique and pair it with wide leg cream pants. Pair it with black pumps and a structured satchel like this Louis Vuitton Epi leather Alma bag.
Look #2 PLAID BLAZER
Plaid blazers aren't going anywhere. But instead of the heavy wool material we've been seeing in fall, here is a great spring option from Alba Boutique, in a light cotton fabric with small hints of red throughout. Pair it with skinny jeans, and thin strap sandals which are making a comeback this season because 90's fashion is back in. Finish it with a pop of red lippie to tie back to the red in the plaid.
Look #3 WHITE DOLMAN TOP
This such an easy top that can be worn during the day with jeans and sneakers and at night with skinny black pants and pumps. This top already screams spring so you can tone it down with a neutral lippie in the colder weather. And then for the warmer months you can add a bright pop of pink with your lippie. Bright lipstick colors do wonders for your outfit in the warmer months. Your accessories can also really help transition this piece for spring. Neon pieces are hot this season so add neon into your accessories with this classic top.
Look #4 WHITE BLAZER W/ GOLD DETAIL
Blazers always pull a look together. Combine it with gold hardware details and you are set. I fell in love with this blazer as soon as I saw it in the store. It's very reminiscent of the Balmain blazers for a fraction of the cost. This white color is so perfect to carry your look forward into the warmer months. Pair it with black skinny pants and pumps now but in the spring, drape it over your shoulders over a floral dress.
Look #5 COZY SWEATER
I love being cozy so sweaters are always the last to go for me in the spring when its time to pack away the winter clothes. This weekend sweater is so perfect with the bright pop of color. Pair it with white skinny jeans and vans or like I did here with my Madewell Cali jean and converse sneakers. You can bet I'm grabbing brunch with my girlfriends in this cute piece. I'd say it looks good with avocado toast, don't you?
Happy March, my loves!!
xoxo, Karen
Sorry, the comment form is closed at this time.