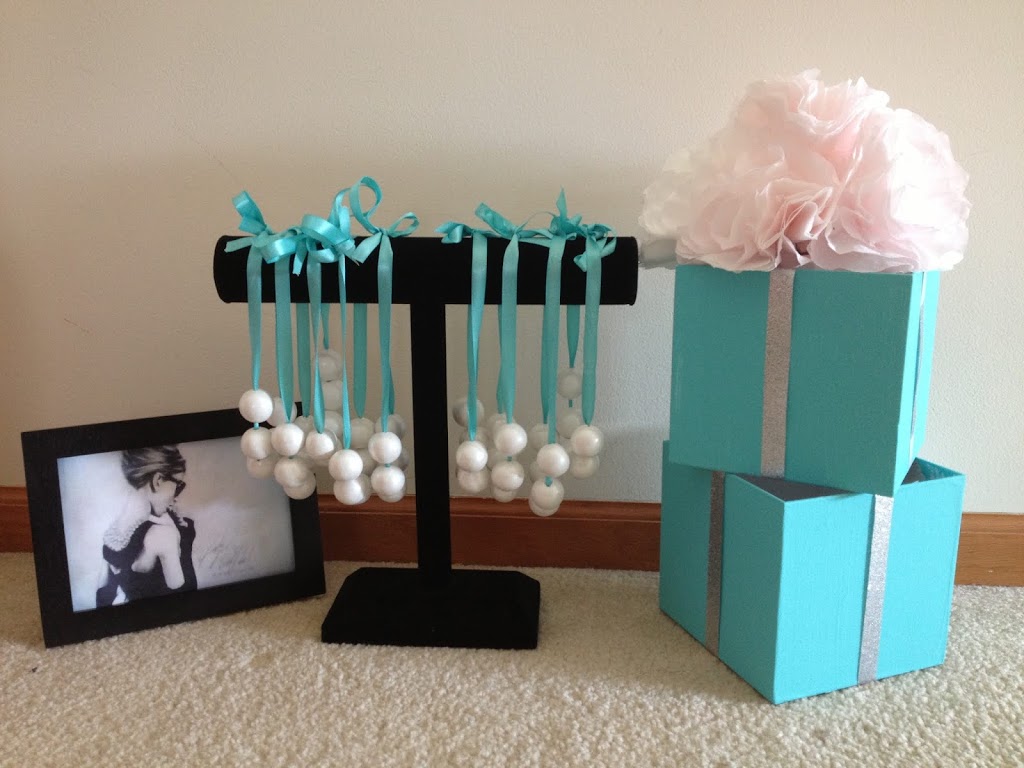 Unique Party Ideas for Your Daughter That Will Wow Even Yourself
Have you been scrolling through Pinterest looking for unique party themes and ideas for little girls? There are so many great options but the key is to think out of the box. Here are 6 great ideas that we've done through the years that were a big hit and reasonably priced:
1. Breakfast at Tiffany's (1st Birthday) – The key is to have the Tiffany blue color throughout the party. I got white boxes from Michaels and painted them in the signature Tiffany blue color. I used these as the center piece for the tables and put flowers and/or photobooth props in them.
For the birthday girl, we got her a black tutu dress from Etsy to mimic Audrey Hepburn's iconic look, complete with a crown and of course a statement necklace.
For the favors, the kids were able to fill Tiffany Blue beach pails with prizes from a big treasure box and treats from our dessert table. The favorite by far were white pearlized gumballs that I strung ribbon through to look like pearl necklaces. Those were a HUGE hit.
And to finish up the decor, we printed up some black and white pics of Audrey Hepburn and placed them in frames from the dollar store.
2) Circus themed party (2nd Birthday) – the key to this is to create a backdrop that looks like a tent to keep with the theme. I got this black and white stripe gossamer roll from Oriental trading that I literally use for every party. Its pretty inexpensive and I use it for everything. So my over all theme was black and white stripes with hints of baby blue and baby pink throughout.
Our dessert table had black and white striped popcorn boxes that tied back to the theme. We had those peanut shaped candy you can get from the dollar store, cotton candy, cupcakes, and much more.
For the games, we had circus themed games with ticket prizes. And once everyone collected their tickets they could choose from a variety of prizes.
3) Little Mermaid (3rd Birthday) – The backdrop and decor for this party was very much a DIY project but so fun and so reasonably priced. For the main backdrop I used streamers and balloons. Streamers are so cheap and make such a statement for backdrops. For another vignette at the party, I folded construction paper, all in tonal blues and purples for an underwater feel. I like to think they looked like abstract fish. My balloons were fuschia for that pop of color.
For the food, we got super creative (courtesy of Pinterest). We made croissant sandwiches and added googly eyes to make them look like crabs. We also cut up hot dogs so it looked like mini octopus after they were cooked.
My most favorite part was our surprise guest, Ariel. I think all the moms were more mesmerized than the kids. She was so beautiful and she read a book to the kids and even sang a few songs from the movie.
And to top it off, each guest got to leave with their own beta fish 🙂 Those were a huge hit.
4) Unicorn Party (4th Birthday) – This was a fun unicorn and rainbow party. For this backdrop I used rainbow colored streamers. Again such a great price for the impact it makes for your party.
Of course the goody bags for this party had unicorn slime, unicorn knick knacks and a cute unicorn stuffed animal. Oh and each child got a mini birthday hat that I got from the target dollar section. They were small outlined with glitter and almost looked like unicorn horns so they were so perfect for the occasion.
The wow factor for this party though was 2 pretty unicorns that came to visit. Each guest got to ride on the unicorn around the block. They even got to feed them so the kids were super excited about that.
5) French themed Ooh la la Party (5th Birthday) – This was a pink and fuschia themed party. The decor inspo was a fresh flower shop on the streets of france. For the awning I used my black and white stripe gossamer paper. I had a rustic ladder and I added silver vases with faux tulips and other tonal pink flowers on it.
For the activity (and also their giveaway), the kids got to "adopt" their very own french poodle stuffed animal and they got to make their collar out of pipe cleaners and lettered beads.
Of course we had french macaroons on the dessert table.
6) A Hoppity Bunny Party (6th Birthday) – The color theme for this party was pink and green – for that garden vibe. For the backdrop I used a balloon garland for the first time and I was sooo happy with the results. It was so easy to put together (I got the kit from etsy). And then I added some greenery to it for keep with the theme.
For the dessert table, I again added my black and white stripe gossamer paper as a table runner. I rented rose gold table and cake stands from here and I decorate with beautiful moss green bunnies.
For our activity, upon the birthday girl's request, we had a mini easter egg hunt out in the backyard. And for our giveaways, we gave everyone a cute stuffed bunny to take home.
And then for the grand finale, we had live bunnies for the kids to play with. But the live bunnies brought along some of their friends. We basically had a mini petting zoo complete with an Alpaca, mini donkey, mini cow, and even a mini pony for the kids to ride. They really had a lot of fun.
(Photo by Davin Tes Photography)
So, there you have it – my 6 unique party ideas for little girls that will wow everyone, even you. Which one is your favorite? Comment below. And feel free to share any other ideas you may have for girls.
Thanks for reading!!
xoxo,
Karen
Sorry, the comment form is closed at this time.